Vancouver Flier
Tour 1
3 night / 4 day
Tour 2
4 night / 5 day
Tour 3
5 night / 6 day
Testimonials
Registration Form
Request Details
Things to Consider
Note: you must have Adobe Acrobat in order to view some of these documents.


Download Acrobat!
Enter your name and e-mail address to receive information about current and upcoming musical events
Click Here!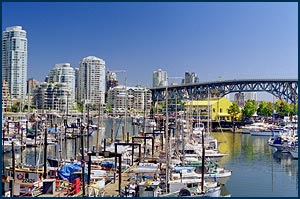 Why Vancouver? No matter what time of the year you visit, there are indoor and outdoor activities to please adults, families, couples and friends to no end. Majestic mountains, a sparkling ocean, rainforests and beautiful foliage during all four seasons make Vancouver one of the most beautiful cities in the world. Canada is known for our people's friendly nature, and Vancouver's citizens take great pride in this tradition.

Vancouver has a long history of supporting all areas of the arts. Unofficially known as "Hollywood North," the city is often a top choice for numerous films and television shows. The stunning setting of the city influence its interest in the arts - music, movies, theatre, and dance are prevalent in Vancouver. The city has a rich assortment of musical groups and venues.

Your concert tour will truly be enriched with the surroundings of history, architecture, and beauty that is best experienced "first hand." Participation in the American Celebration of Music in Canada can make this happen for you and your touring ensemble!